April 30, 2020 – Board of Review 2020 videos and printed materials are available now .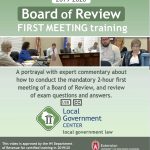 Visit the Local Government Center Board of Review site to order online. If any questions about your order contact the Local Government Center.
An updated supplement to the Board of Review printed materials that includes information on COVID -10 impacts and recently enacted laws is available here.