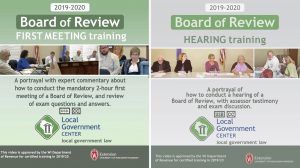 Order your 2020 Board of Review Training materials NOW..
How to Order
Local Government Education is now taking orders for 2020 DVD or USB videos and materials. Shipment of your order may be delayed due to Safer-at-Home COVID-19 protocols. Online orders are processed sooner than mail-in due to the current logistic environment.
April 30, 2020 UPDATE: An update to printed materials is now available covering March and April legislative changes and guidance on changes due to the COVID-19 pandemic.
Wisconsin Department of Revenue-approved Board of Review (BOR) Training are available in DVD format and now USB format, with accompanying materials.  You can order one or both of the two video courses offered.  (Read about course descriptions below and order).
Only one video course is required for certification of completing the BOR Requirement.
The BOR is a panel of local officials whose job it is to hear property owners' objections to their tax assessments. Wisconsin Law requires that at least one member of the BOR obtain a Wisconsin Department of Revenue-approved training within two years of the BOR's first two-hour meeting. It is recommended that all BOR members be trained, but the law requires only at least one member to do so. The Department of Revenue requires taking the current program and will not certify attendance at training using materials or content dated prior to 2019. This is to ensure BOR members learn the best and most up-to-date information.
Find the Training You Need
 The 2019-2020 BOR video training provides the opportunity to select one of two BOR training courses which are:
Conducting the First Meeting of Board of Review
Conducting a Board of Review Hearing
Each video comes with information materials, including the exam and affidavit that must be filed with the clerk to meet the certified training required by Wisconsin law.  Only one video training course is required, but you may choose to use both.
Because each course contains updated and revised content, BOR videos or materials dated prior to 2019 may not be used to meet the 2020 Board of Review training requirement. Materials have been revised and updated for 2020, but you may use a 2019 video, and copy the exam and affidavit to fill in.
Reviewers and past participants agree: seeing how to do it is better than a lecture about it.
Again, watching and completing the exam for only one video course is required for certification.
Course Descriptions
Conducting the First Meeting:
Every city, village and town in Wisconsin must hold a First Meeting of the Board of Review.  State law spells out certain specific requirements.  This video course shows how to do those and some best practices as suggested by the Department of Revenue and experienced professionals.  You learn how to begin, elect a chair, "receive" and examine the tax roll, and handle taxpayer procedural matters, such as a request for telephone testimony or hearing waiver.
Board of Review Hearing:
On taxpayer appeals, the Board of Review takes testimony and evidence and make decisions similar to judges.  In this video course you will see a hearing appealing the valuation of a tavern/residence.  You will see how to call a case, swear in witnesses, address member recusal requests and tips on handling an "over-active witness".  Overall, you learn how to conduct a fair and legal hearing and make a decision.
Please note: You may use 2019 DVDs for your 2020 training. This is possible because there were only minor changes in the law and procedures for 2020. You may also complete the exam in the 2019 materials for submission to your clerk for 2020 certification. Clerks may include BOR members who used 2019 DVDs for their training in their affidavit they send to the Department of Revenue.
Certification
After viewing the DVD and completing the written materials, complete the affidavit from the materials. Complete the exam (answers will be given during the program) and attach the exam to the affidavit. Your affidavit and completed test will be filed with the municipal clerk. Next, have your municipal clerk file an affidavit online with the Department of Revenue indicating that you have completed the training. Instructions for online filing are in the materials.